Practice overview
Ebony Alleyne specialises in construction and engineering, insurance, commercial, property damage and professional negligence. She is an experienced trial advocate, both as sole counsel and as a junior to leading counsel, and has been instructed in multi-week trials in the Commercial Court, Chancery Division and the TCC.
She recently acted for the successful respondents in Pistachios in the Park Ltd v Panesar [2022] EWHC 2088 (QB) an appeal on various points in respect of causation of loss in a claim for fraudulent misrepresentation and acted in TCC proceedings for the main contractor over design and construction of an energy-from-waste plant at a site in Hull. Ebony is also acting for the main contractor in a £100m+ construction all risks insurance coverage claim arising from the defective roof of flagship commercial headquarters in the UK, led by Paul Reed KC.
Ebony is recommended for Construction by both Chambers UK and Legal 500 as well for Professional Negligence by Legal 500.  She is commended for her effective court advocacy, the quality of her written work and her personable, commercial and straight-forward style.
Ebony is described as "A rising star and very much one to watch" and as being "Talented beyond her years" and "Fearless in pursuit of the answer" (Legal 500).
Ebony acts for a very wide variety of clients both domestically and internationally.  These have included recently an international engineering enterprise focused on energy projects, an international construction and consultancy company, a major developer of apartment buildings designed specifcally for the rental market, a national dessert parlour franchisor, a mechanical engineering firm specialising in pipeline fabrication and installation, a national same day freight courier, an international provider of outsourced business process services, a construction joint venture established in Turkey, a leading elevator installation company, a sustainable M&E engineering services company, a railtrack maintenance contractor, a nationwide retail franchisor and a leading bread manufacturer.
Outside of her legal practice, Ebony is currently enjoying working towards her private pilot's licence.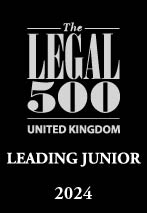 Professional associations
COMBAR
TECBAR
Society of Construction Law
Professional Negligence Bar Association
British Insurance Law Association
London Court of International Arbitration
London Common Law & Commercial Bar Association
ArbitralWomen
Directory recommendations
Ebony is recommended for Construction in both Chambers UK and The Legal 500, and for Professional Negligence by The Legal 500.
"Ebony is simply phenomenal. Forensic attention to detail, comprehensive and meticulously thorough in her analysis. Could not recommend her more highly." (The Legal 500, Professional Negligence)
"Ebony is simply phenomenal. A shining star at the construction Bar. Fiercely talented with forensic attention to detail, comprehensive and meticulously thorough in her analysis. Always well-prepared, she has a winning way with clients who can see that she speaks from experience and really knows her stuff. She's the real deal." (The Legal 500, 2024, Construction)
"Ebony understands constructional risks and is very hard-working." (Chambers UK, 2023)
"Her attention to detail and ability to grasp issues and distil and explain extremely complicated technical points into something relatable and understandable is phenomenal." (Chambers UK, 2023)
"She has an easy manner; so great with solicitors and lay clients." (Chambers UK, 2023)
"Ebony turns around work very quickly and efficiently." (Chambers UK, 2023)
"A talented junior." "She is commercial, enthusiastic and hard working." (Chambers UK, 2023)
"Ebony is great at assimilating huge amounts of detail, and using it to craft simple and elegant arguments, which are always well thought through, and frequently impregnable." (The Legal 500, 2023)
"Bright, incisive, and determined; Ebony is a force to be reckoned with. The combination of the depth of her analysis and breadth of her knowledge in this field marks her out as a future star." (The Legal 500, 2023)
"Ebony is a rising star and very much one to watch." (The Legal 500)
"Talented beyond her years, she combines incisive legal analysis with forensic attention to detail." (The Legal 500)
"Fearless in pursuit of the answer, she is persistent and rigorous in her questioning, and meticulous in her drafting." (The Legal 500)
"Great at assimilating huge amounts of detail, and using it to craft simple and elegant arguments, which are always well thought through, and frequently impregnable." (The Legal 500)
"Knowledgeable, commercially aware and considers all angles." (The Legal 500)
"She is impressive. She is professionally inquisitive and is tenacious." (The Legal 500)
"An excellent advocate, who stays calm and adapts effortlessly when circumstances change." (The Legal 500)
"An extremely capable and professional barrister able to quickly identify the key issues in complex claims." (The Legal 500)
"A talented junior." (Chambers UK)
"She is commercial, enthusiastic and hard-working." (Chambers UK)
Qualifications
LLB (Hons), First
Bar Vocational Course, Very Competent
Exhibition Scholar, Inner Temple
Martin Dockray Prize winner in consecutive years