Introduction
Welcome to the last ever (!) edition of the Property Newsletter from Hardwicke. Fear not though, this is not farewell. The team and newsletter will continue, proudly, as part of Gatehouse Chambers, from 19 July 2021, when we move to our brand new home at 1 Lady Hale Gate in Gray's Inn. We're really excited about it, and cannot wait to welcome you all there (hopefully not too far ahead in the future). Click here to find out why we decided to change our name.
This month John Clargo goes back to school (and the 1840s) looking at the Supreme Court's decision in Rittson-Thomas & Others v Oxfordshire County Council [2021] UKSC 13 and the greater latitude to local authorities selling off school land.
Laura Tweedy updates us on the current position as to notice periods, evictions and Covid-19.
And Kort Egan spins the wheel of questions for us.
For all things Covid-19 related, Hardwicke's Covid-19 resources related hub can be found here.
The next newsletter will be around the end of July 2021. From all the team at Hardwicke (and for the last time!) we continue to wish you and your family all the best.
Carl Brewin – Editor
Activity Report – What we have been up to and what we'll be getting up to over the coming month
This month began with a TOLATA trial for Steven Woolf and will end with another one. In the intervening weeks, Steven has been working on the Grounds and Skeleton in the forthcoming appeal against the decision of Nicklin J that has a driven a coach and horses through injunctions against Person Unknown.
John de Waal QC has been drafting Particulars of Claim in two £10m professional negligence cases.
Brie Stevens-Hoare QC has been having a great time focused on complex restrictive covenants, indemnity clauses in development related sale and purchase agreements, and some really nasty neighbour boundary disputes. What with all of that, a building move and change of name to Gatehouse Chambers, even Brie thinks she might need a bit of a break.
Jamal Demachkie had a week's holiday (woohoo!) and is now back to a series of development disputes: overage, temporary interference with easements, and (alleged) breach of covenants.
James Hall has been dealing with his usual professional negligence workload but also working (with the incredible Brie) on a big new matter involving HS2, an old estate and restrictive covenants. 
What travel restrictions? In addition to face to face mediation on boundary dispute north of Hexham, opposed possession hearings in Worcester and  Birmingham, and forfeiture in Truro, it was a busy month of easements, possession, boundaries and costs budgets for Monty Palfrey. 
Lina Mattsson has had a varied diet this month. She has been in the Upper Tribunal arguing about the modification of restrictive covenants under s 84 led by Andrew Francis (who literally wrote the book on the topic). Is it too nerdy to ask him to sign her copy of his book? She has also successfully got a derivative claim summarily dismissed and been advising on unincorporated associations' ability to hold an interest in land.
Some of Daniel Gatty's time has been spent on a trial about a deed governing contributions to a maintenance fund for a West End mansion block and a trial about disputed ownership of a residential property. The rest of his time has been spent on a variety of disputes covering the gamut from (alleged) solicitors' negligence to disputed rights over a pleasure garden via forfeiture of a commercial lease.
Events
#HardwickeBrews
The Hardwicke Team is continuing its successful #HarwickeBrew series on Zoom, so that we can all have an informal chat and we can let you in to our team's thoughts about current issues and the practical challenges practitioners and their clients are facing. Thank you to all those who attended our Brews so far.
Upcoming Brew
#HardwickeBrew – Boundaries and Easements | 6 July, 11:00 – 11:45
Supreme Court grasps the nettle(bed) and gives lesson on sale of school land
John Clargo discusses the recent Supreme Court decision in Rittson-Thomas & Ors v Oxfordshire County Council [2021] UKSC 13 and its implications for "statutory reverters" under section 2 of the School Sites Act 1841.
Click here to read the article.
Notice periods, evictions and COVID-19: what length notice do you need for assured and assured shorthold tenancies, and can bailiffs evict yet?
Laura Tweedy looks at the periods of notice required since 1 June 2021 when serving notices in England under section 21 and section 8 of the Housing Act 1988, and summarises how the notice periods have changed from pre-pandemic levels.
Click here to read the article.
Did you see? You may have missed...
Minister v Hathaway [2021] EWCA Civ 936, 23 June 2021 
Assured shorthold tenancies –  Energy performance certificates – 21 Notice – Validity 
Click here to read our full case summary from Lina Mattsson.
Estates Gazette Property Podcast: Diversity and inclusion in property law
In the latest episode of the Estates Gazette's Property Podcast, EG's professional & legal editor Sarah Jackman is joined by three figures from the property law profession to explore diversity and inclusion in property law.
Speakers include:
The conversation covers a range of issues from gender balance and ethnicity to talent retention and progression, as well as looking at the importance of culture, leadership and allyship within the workplace. Mark Reading and Emma Pinkerton highlight some initiatives utilised by their firms to broaden the talent pool, while Brie reflects on key things she's learned about promoting inclusivity from her time as a board member at Freehold.
The trio conclude with their thoughts on where they would like to see the industry 10 years from now in relation to D&I.
Click here to listen to the podcast.
In other news...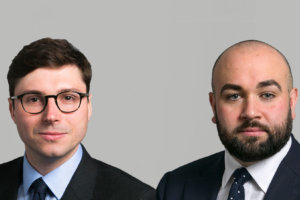 We are delighted to announce that James Duncan-Hartill and Richard Sumarno have been promoted to Joint Practice Directors and heads of the Practice Management Team.  Richard joined Hardwicke in 2013, James in 2014, both following working for other leading London sets.
Many of you will know the unflappable James as he along with Patrick Sarson and Claire Gallacher are in charge of the property team.
They both look forward to meeting you all in the forthcoming months.
"Hardwicke Unrobed" - Get to know us better
Each month, a member of our property team has to spin 'the Wheel of Questions' and answer the first three questions that come up. This month, Kort Egan tried his luck with the wheel.
If you could win an Olympic medal for any sport, what would it be? 
A tricky one but I would probably go with boxing. I am an avid fan and so many esteemed boxers have won Olympic medals over the years. 
What was your first job? 
Working on a market stall selling everything from batteries to cutlery sets. 
What's your favourite book? 
Crime and Punishment by Fyodor Dostoevsky. An absolute must read. 
Want to try for yourself?
Click on the wheel below!
Adieu Hardwicke and Bienvenu Gatehouse
As mentioned in the editorial, our next newsletter will come to you under our new Gatehouse Chambers name. We look forward to showing off the new branding and to welcoming you to the new building in due course.
Contact Us
If you would like to discuss any of the topics in this newsletter, please contact a member of our Practice Management Team:
James Duncan-Hartill, Practice Director
Patrick Sarson, Practice Manager
Claire Gallacher, Practice Manager
To find out more about our Property Team and their work, visit the property page on our website. To view a copy of our privacy statement, please click here.
This edition of the property newsletter was edited by Carl Brewin. Comments or queries about this newsletter? Please get in touch with him!
If you are reading this but do not receive our mailings and would like to, please click here.