Introduction
Welcome to the March 2020 edition of the Property Newsletter from Hardwicke. Business as usual, but not quite usual of course. The Hardwicke team would like you to know we are still here for you: available, adaptable, working remotely but responsive and connected. Trialling and working remotely with the practice team in chambers in the last few weeks has gone well so we expect and hope the service we provide can and should remain the same.
While Hardwicke Building itself is shut, we remain able to have meetings and conferences by phone or video conferencing. Further, if your clients do not want to wait for the Court or Tribunals to reopen or relist cases, members of the Hardwicke Property Team can help with:
Remote mediation by phone or video;
Expert determination; and
Early neutral evaluations.
This month Jack Dillon considers the recent decision in Canada Goose UK Retail Ltd v Hayton and others [2020] EWCA Civ 303.
Lina Mattson updates us on Pease v Carter [2020] EWCA Civ 175 which deals with circumstances in which an error may invalidate notice.
I take time to reflect, in light of the pandemic, what property practitioners are currently facing, what interim measures we can take  and what opportunities might arise in future.
And Andy Creer spins the wheel of questions for us.
We hope that the next newsletter will be around the end of April 2020. Until then, stay safe. From all the team at Hardwicke we wish you and your family all the best at this difficult time.
Carl Brewin – Editor
Activity Report – What we have been up to and what we'll be getting up to over the coming month
Clare Anslow took three weeks off at the end of February/March for a very belated honeymoon. She was blissfully ignorant of the impact of Covid-19 in the UK (South Africa had no reported cases at the time) but remembered to stock up on hand sanitisers at Johannesburg airport, which she is auctioning off to the highest bidder (only kidding). If the courts remain open, Clare has a busy month coming up, including a tricky case concerning the breach of an option agreement. If Clare is required to self-isolate, she intends to watch all of the Matrix films back-to-back; her plans are still forming for day two of self-isolation – any suggestions are welcome.

John Clargo has had a varied month: lots of easements, some general commercial L&T, some constructive trusts and proprietary estoppel and even a bit of enfranchisement (of a place of worship).  He isn't expecting any sympathy for the cancellation of trips to Italy (Rugby) and France (Family).

Since returning from Colorado, Andy Creer has been advising on alienation clauses in an unopposed lease renewal and on more Electronic Communications Code matters. She has also considered a potential claim in professional negligence against an expert and already has a new case with a Covid-19 dimension to it.

Jamal Demachkie's two-week neighbour dispute trial in Bristol settled at the last minute (thank goodness!) He has, instead, been filling his time with some L&T advices, and generally reminding himself how many distractions there are at home.  Thank goodness the kids are out of the way all day at school… Oh wait!

James Hall has, with Brie Stevens-Hoare QC, had success in a commercial lease rectification claim of substantial value; and is now looking forward to trying to get through his Netflix list during the next few weeks!

Katrina Mather is delighted that her month long holiday to Japan was cancelled as she can now do extra work and catch up on her long admin list.

Lina Mattsson has been dealing with alleged fraudulent misrepresentations in pre-contract enquiries, orders for sale and prescriptive easements. She has also had a trip to the magistrates court for an EPA, after which Central London County Court does not seem that disorganised.

Peter Petts…well the photo says it all.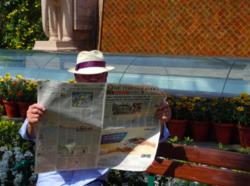 A month immersed (though, thankfully, not literally) in drains and sewerage: Andrew Skelly has been advising on easements of drainage of a residential development on the Isle of Wight, and the implication on the division of a large residential plot for development.
In this extraordinary month Brie Stevens-Hoare QC has been busy with a wonderful mixture of rectification, dilapidations, forfeiture and failure to complete – she has also been on a steep learning curve with working remotely and joys of what technology can do.
John de Waal QC is enjoying working from home and has a steady stream of disputes about leases.
Lina Mattsson: Did you see? You may have missed...
Pease v Carter [2020] EWCA Civ 175
Validity of unilateral notices – errors – the reasonable recipient – statutory purpose
When does an error invalidate a notice? In this case the Appellant Landlord had served a notice under section 8 of the Housing Act 1988 on the Respondents Tenants on 7 November 2018. The notice stated that the court proceedings would not begin until after "26 November 2017". The Judge held that this was an obvious typographical error, and that the reasonable recipient of the notices would have realised that the intended date was 26 November 2018. He nevertheless held that the error in the date meant that the notice was invalid as the reasonable recipient test did not apply to section 8 notices, citing Fernandez v McDonald [2003] EWCA Civ 1219. The Court of Appeal held that the notice was valid.
Click here to read more.
COVID-19 – What is the immediate future for property lawyers and are there potential opportunities for us in the short to medium term?
We are still in the early phases of the coronavirus COVID-19 pandemic in the United Kingdom. The pace of events and breaking news is so fast that most analysis is out of date shortly after it is published. It is perhaps worthwhile pausing to reflect on the position property lawyers currently find themselves in, what interim measures we can all put in place to ensure service continuity as much as possible, and what opportunities might arise in the future.
Click here to read more.
Hardwicke Podcast - Up High and Down Low: ownership of airspace and subsoil
Don't forget you can still access our podcast programme. Click here to subscribe.  If you have not already done so, you may find listening to the podcast by Daniel Gatty and Priya Gopal on rights over airspace useful.
"Hardwicke Unrobed" - get to know us better
This month, Andy Creer tried her luck with the wheel.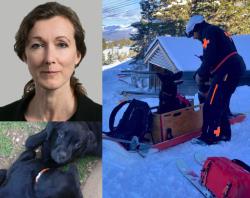 Name something you've done that made you feel extreme happiness.
Well, reading that question certainly wasn't it. Extreme happiness is probably reserved for more enlightened beings. So, the best I could come up with is (1) last summer I sat in a friend's garden with a litter of seven, adorable Labrador puppies; and (2) A few weeks ago I did 'last tracks' with a Colorado ski patrol and their avalanche dogs. I smiled all the way down the mountain skiing behind two very excited dogs, which had been trained to ride in an adapted sled.
What are you reading currently?
Currently Abir Mukherjee's "A Rising Man". A detective story set in Calcutta just after WWI. I have no idea how historically accurate it is, but the writer has some very witty turns of phrase. Before that I read Dr Richard Shepherd's "Unnatural Causes" – the autobiography of a forensic pathologist –  and, essential holiday reading if you want to be left alone, Prof. David Wilson's "A History of British Serial Killing". Rumours that I have a new patio are unfounded…
What are you reading currently?
I guess it proves the Wheel is random.
Want to try for yourself?
Click on the wheel below!