Practice overview
Frederico has developed a successful practice in international dispute resolution that encompasses commercial litigation and international arbitration. He is a specialist in international trade and investment disputes. He practiced law as a solicitor and in-house lawyer before being called to the bar and that experience leads him to undertake highly complex, high value and high-profile cases.
Frederico is especially sought out for his unique expertise, drafting and advocacy skills in matters involving emerging markets in Latin America, Africa and Asia, by English, international and foreign firms as well as third-party funders and government entities. Many of his instructions have been borne from his unique profile. His practice spans across a wide spectrum of industry sectors including banking & finance, corporate, M & A, commodities, maritime, aviation, energy, mining, infrastructure, and insurance cases.
He is an experienced trial advocate, having advised and acted for states, state entities, public and private companies in English court proceedings. In international arbitration he acts both as counsel and arbitrator and has substantial experience (including under the institutional rules of the LCIA, ICDR, ICC, LMAA, DIAC, CAM-CCBC, AIAC, ACICA and UNCITRAL).
Frederico is recognised in the International Arbitration Powerlist by Legal 500, Legal 500 UK Bar and Whoswholegal, amongst the most experienced and notable international arbitration practitioners at the English bar. A considerable proportion of his practice consists of acting as an arbitrator and he is included in the lists or panels of arbitrators in many institutions across the world including the VIAC, HKIAC, AIAC, KCAB, ACICA, CAM-CCBC, CAMARB, CBMA and CACM to name a few.
In 2017, Frederico was appointed by the Ministry of Justice as a Court Examiner (a quasi-judicial appointment), undertaking depositions predominantly for the district courts of New York, Texas and California. Frederico is also an accredited mediator and is happy to accept appointments. He is one of the first barristers to become an accredited Digital Dispute Resolution Specialist.
As well as practicing law Frederico also is a faculty member for the Chartered Institute of Arbitrators and a course leader at Gray's Inn and ADR-ODR for international arbitration; is the course leader at University College London for procurement, construction and engineering for major projects; and a visiting lecturer at the University of Westminster for commercial dispute resolution.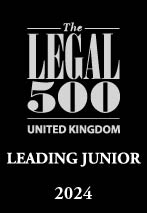 Construction & engineering

Construction & engineering

Construction & engineering

Frederico is familiar with standard form (FIDIC, NEC, ICE, ACA, JCT) and ad hoc contract disputes and has experience of issues including delay and disruption, variations and defects in design, engineering and construction as well as related commercial issues including project finance, guarantees and performance bonds. He has been involved in disputes of widely varying size, value and scope. He has appeared before a variety of tribunals including in the technology and construction court (TCC) and chancery division (ChD). His experience of construction and engineering involve a range of projects such as power plants and refineries, sky scrapers, shopping centres, stadia, hotels and theme parks. He has extensive international experience as well as in domestic cases.

Sample Work:

Panamanian Centre for Conciliation and Arbitration (CeCAP) – advised C, a Costa Rican consultant company in an arbitration against a Spanish respondent on commission payments due and owing for consultancy services relating to the tender, construction and operation of a water and sewage treatment plant in Panama. Arbitration seated in Panama, governed by Panamanian law and in Spanish.
Kentish International Trader (BVI) v Ganter Interior GmbH (Germany) & Anr [2018] – advised and represented C in respect of breaches of contract governed by German law for design supply and manufacture of bespoke interior design.
RE: Limassol Port (Cyprus) [2017] – advised a syndicated banking structure investing in a SPV for the grant of a concession agreement for the construction and operation of a multi-purpose port in Cyprus.
Bolingo Hotel & Towers Ltd (Nigeria) v Legacy Group Holdings (Pty) Ltd (Nigeria) [2016] – advised a Nigerian corporate landowner in a claim for delay in respect of a series of contracts for the construction, operation and management of a hotel complex in Abuja.

Energy & renewables

Energy & renewables

Frederico has strong experience as counsel and arbitrator of energy and renewables cases often with an international element. He has advised on risk and liability, conflicts of laws issues, calls on bonds and limitation of liability provisions. He has acted for owners, EPC contractors, subcontractors and insurers in relation to disputes in upstream oil, wind, photovoltaic, hydro, nuclear and ethanol sectors. He is experienced in floating, production, storage and offloading (FPSO) construction and leasing disputes.

Sample Work:

FPSI BV (Netherlands) v Vulcanic Ltd [2021] (Comm) – advising and representing C against a UK subsidiary of a French company in the design, engineering and construction of heaters for gas dehydration units (GDU) and thyristor panels installed in floating, production, storage and offloading (FPSO) vessels off the coast of Brazil. The claim is for defective goods and services which resulted in two explosions onboard two separate vessels.
Chamber of Commerce Brazil-Canada (CAM-CCBC) – advised C, a Brazilian entity in the renewables sector with claims against a syndicate of US banks in a claim arising from the acquisition of shares in a Spanish special purpose vehicle, seeking declaratory relief on the interpretation of a clause in a contract governed by Brazilian and English law, in the form of an indemnity for withholding tax applied by Brazilian tax authorities. Arbitration seated in São Paulo, in Portuguese.
International Chamber of Commerce (ICC) – advising Norwegian C in a delay claim against Brazilian operator relating to the contracting of subsea umbilical risers and flowlines (SURFs) provided for the exploration and production of oil in the pre-salt Santos basin in Brazil. Arbitration seated in Paris, governed by English law.
Odebrecht SA (Brazil) v Maersk SA (Denmark) [2010] (Comm) (settled) – advised and represented C in a claim in respect of a JV company, formed to design and construct a new type of FPSO vessel as a research and development project.

International

International

When a dispute involves two or more countries, issues of applicable law, competent jurisdiction, enforcement of judgments or awards, international procedure and service or evidence are likely to arise. The rules of law which govern these issues are the conflict of laws.  Almost all of Frederico's work has an international element. He has made extensive appearances in the English courts and in many international arbitration/commercial matters for and against individuals, corporations states and state-entities. His international practice encompasses both private and public, civil and common law. Please see commercial litigation and arbitration for a list of recent cases.
Languages
Native Portuguese
Spanish
Professional associations
Vice Chair of International Committee of the Bar Council
Gray's Inn International Arbitration Course Leader & Vis Moot Coach
Founder and Co-chair of Lex Anglo-Brasil
Honorary Member of the Instituto de Advogados do Brasil (IAB)
Associate Member of the American Bar Association (ABA)
Fellow of the Institute of Advanced Legal Studies (IALS)
Member of International Bar Association (IBA)
Member of Society of Construction Law (SCL)
Member of Commercial Bar Association (COMBAR)
Member of Technology & Construction Bar Association (TECBAR)
Member of London Common Law and Commercial Bar Association (LCLCBA)
Fellow of Chartered Institute of Arbitrators (CIArb)
Fellow of Australian Centre for International Commercial Arbitration (ACICA)
Supporting Member of the London Maritime Arbitrators Association (LMAA)
Member of London Court of International Arbitration (LCIA)
Member of International Chamber of Commerce (ICC) Arbitration & ADR Committee
Member of International Council for Commercial Arbitration (ICCA)
Member of Comitê Brasileiro de Arbitragem (Cbar)
Member of Panel of Arbitrators of Asian International Arbitration Centre (AIAC)
Member of the Panel of Arbitrators of the Mozambique Centre for Arbitration, Conciliation and Mediation (CACM)
Member of the List of Practitioners, Vienna International Arbitral Centre (VIAC)
Member of the Panel of International Arbitrators for Korean Commercial Arbitration Board (KCAB) International
List of Arbitrators of the Hong Kong International Arbitration Centre (HKIAC)
List of Arbitrators of the Centro Brasileiro de Mediação e Arbitragem (CBMA)
List of Arbitrators of the Camara de Arbitragem Empresarial do Brasil (CAMARB)
List of Arbitrators of the Centro de Arbitragem e Mediação da Câmara de Comércio Brasil-Canadá (CAM-CCBC)
Qualifications
BA (Hons)
Admitted to the Roll of Solicitors of England & Wales
Admitted to the Brazilian Bar Association (OAB)
Ministry of Justice Appointed Court Examiner
Accredited Mediator
Accredited Full SFO Security Clearance
Digital Dispute Resolution Specialist (DDRS)
Sits on ADR ODR's DDRS panel
Directory recommendations
Frederico is recommended for International Arbitration in The Legal 500 (UK Bar and International Arbitration Powerlist) and Who's Who Legal:
"Fred is very well versed and prepared to transmit the legal concepts and perceptions from English law to Brazilian lawyer and a Brazilian client. Also, he has a proactive posture, offering a fast and qualified service for his clients." (The Legal 500, 2024, International Arbitration: Counsel)
"Very prepared to work for non-English clients, especially Brazilian clients. He is very professional and he always is available to assist or support in all the advocacy activities." (The Legal 500, 2023)
"He is a very good communicator and is bilingual in English and Brazilian Portuguese which is invaluable." (The Legal 500, 2022)
"Strong knowledge of international law and arbitration. He is excellent at presenting his case and cross-examining witnesses." (Who's Who Legal, International Arbitration)